To meet our goal of clean, safe, accessible and reliable service, we look to our greatest resource - a talented, diverse, and dedicated team. The T offers a variety of exciting challenges and growth opportunities. Competitive salaries, healthcare, training programs, tuition assistance, and innovative work/life programs are all part of the MBTA work experience. See what opportunities are available and view our job openings.
Job Openings
Benefits
Employee satisfaction, both inside and outside of the office, is one of our greatest priorities.
T employees benefit from a range of programs (subject to union affiliation of the position you are applying to).
Policies
Employee Testimonials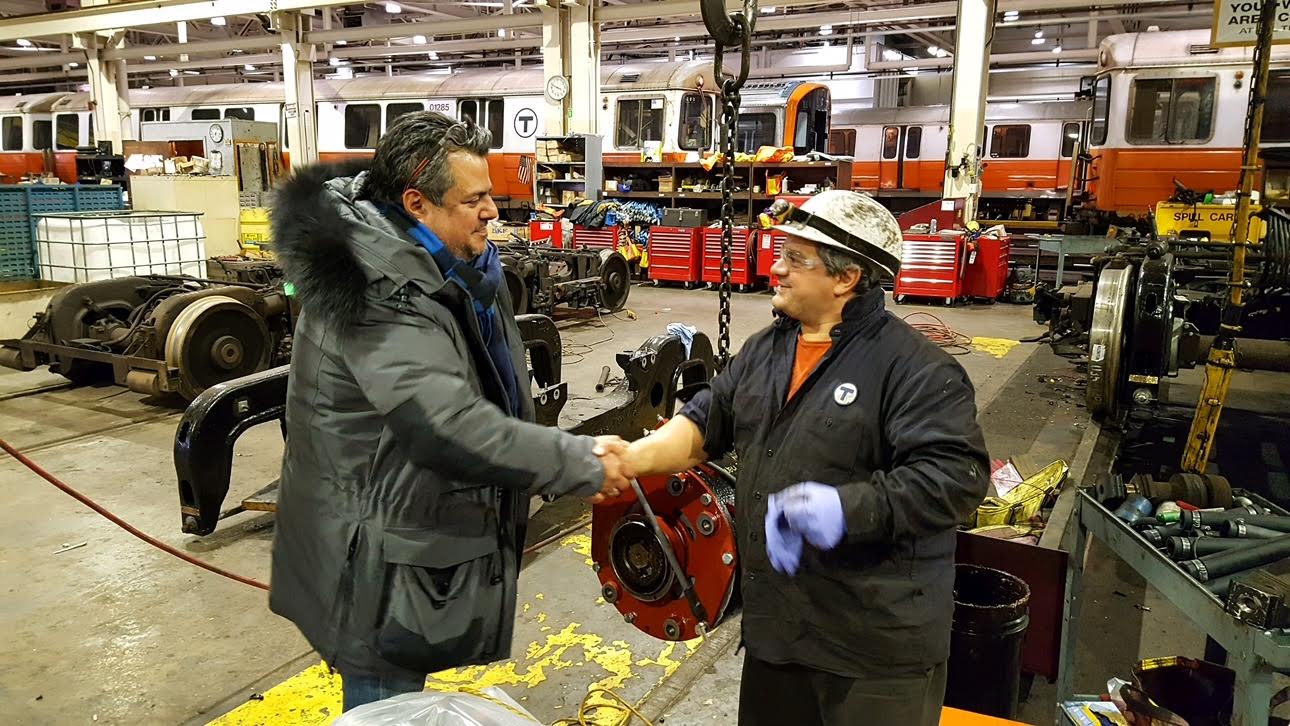 ---
"I joined the MBTA from the private sector to help stabilize an organization that underpins the Greater Boston area. The opportunity to lead a team with a shared commitment to public service has been an extremely rewarding experience and one that will keep me at the T for the indefinite future."
Paul B.
Acting Chief Financial Officer
---
"I joined the MBTA some 20 years ago to pursue a career with a World Class Transportation Agency, I thoroughly enjoy working and meeting new people while doing a job that I also enjoy, I am proud to do my job and ensure that it is done right, working on a daily basis with a great and diverse staff also adds to my enjoyment of working here."
Charlie H.
Manager, Mailroom Services
Procurement & Logistics
---
"I joined because I truly wanted to make a difference. We understand what the critical work of the MBTA is - so we have to not only hire the right talent to support our strategic initiatives but also retain the talent that we currently have now. We do this by creating a culture of learning & development to help our employees grow."
Janice B., PHR, SHRM-CP
Chief Human Resources Officer
Human Resources
---
"I chose to work at the MBTA for the challenge. Our successes—and failures—are on display every day, and I'm confident that my work at the T will help to make a better transit system for all of our riders."
Samuel R.
Deputy Director Financial Strategy
CFO Office
---
"The job sounded challenging, it encompassed multiple work areas that I was passionate about and I believed in public service. There is still work to be done that I can be a valuable member of the team doing that work."
Kate L.
Director
Occupational Health Services
---
"I saw tremendous opportunity in being able to contribute to the transformation of the MBTA. I stay because of the people and the challenges to be better at what I do every day."
Christine M.
Deputy Director of Human Resources
Human Resources
---
"Working at the MBTA has provided me an opportunity to help provide services to the people in my community. Seeing my friends and neighbors riding the T fills me with pride, knowing that the good work we are all doing helps create a safe, reliable transportation system."
Michael S.
Manager of Org Analysis and HR-CRM
Human Resources
---
"I have been with the MBTA for almost 18 years and I have always been engaged in offering assistance to ensure the success of day-to-day operations which has made me aware of the extensive work that needs to be done in order to transport the citizens of the Commonwealth and its visitors. My time in Human Resources helped me develop an understanding of the many facets of Operations (transportation, maintenance, planning, and engineering) as well as developing a greater appreciation of how the non-operating departments play a vital role in supporting the overall Operations mission. This experience afforded me the opportunity to grow as an employee and advance my career through different roles which has landed me in Operations where I can have a more direct impact on its success. The opportunity to collaborate with employees in all areas of Operations has taught me more about the Authority as well as the dedication these employees have to the MBTA. Gaining this experience has helped me grow personally and professionally and enriched my career at the Authority."
Steven E.
Deputy Director of Administration - Workforce Planning
Operations
---
Contact Us
Massachusetts Bay Transportation Authority
Human Resources Department
10 Park Plaza
Suite 4810
Boston, MA 02116
Phone: 617-222-5855