Better Bus Project
Updated on March 14, 2019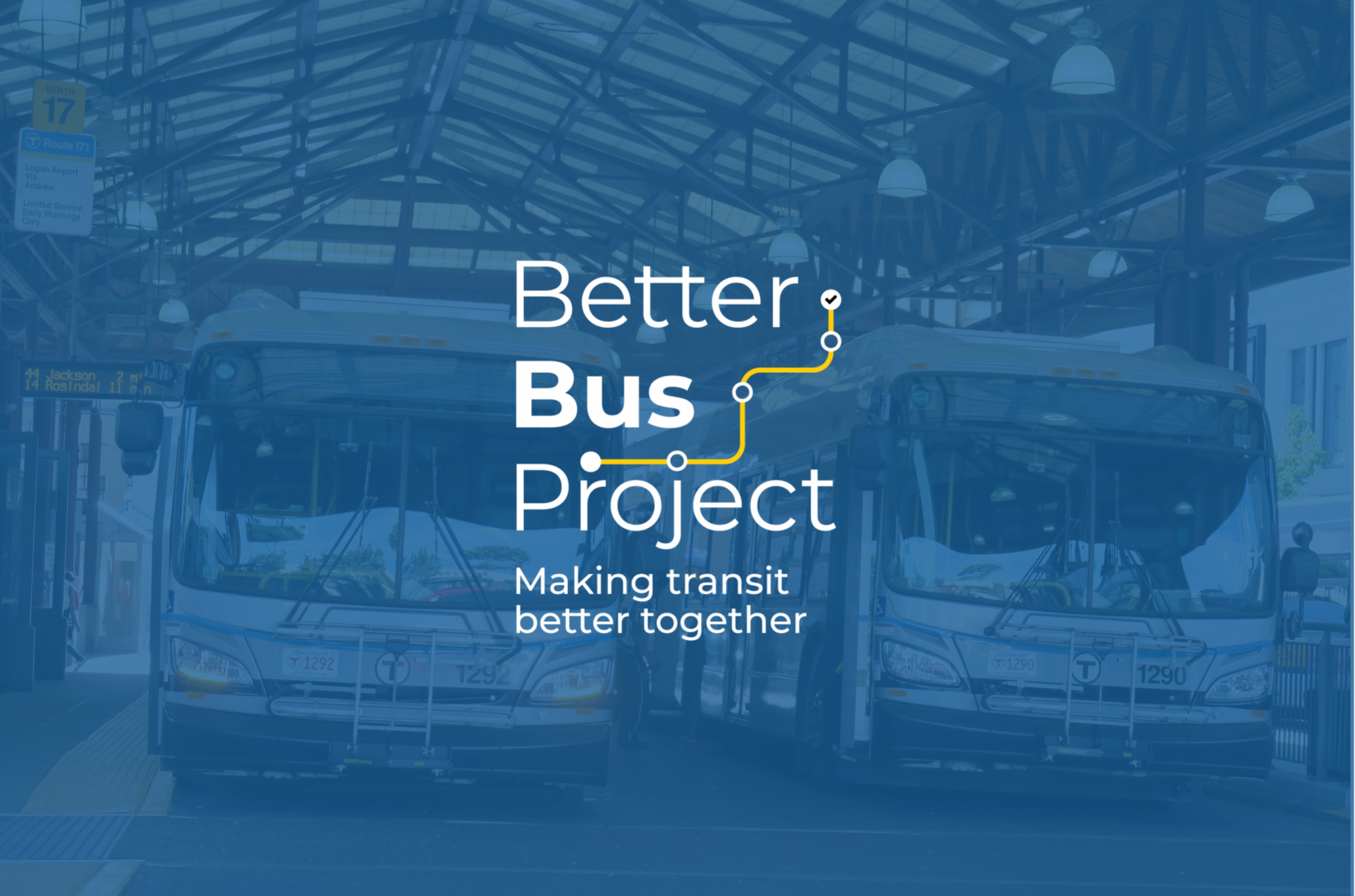 About the Project
The Better Bus Project is the first step in our efforts to improve bus service and the system as a whole. It is a key part of our $8 billion modernization work, which includes replacing subway fleets, upgrading tracks, signals, and switches, reinventing our bus system to reflect changing demographics, replacing our fare collection system, and bringing all of our assets to a state of good repair.
Too many of our bus routes still fail to live up to our own standards. Through the Better Bus Project, we are changing that. Every day we're finding new ways to improve the experiences of the people who use and ride our buses.
The Better Bus Project has several components: continuous change, analysis, proposed near-term changes, multi-year investment strategy, and the Bus Network Redesign.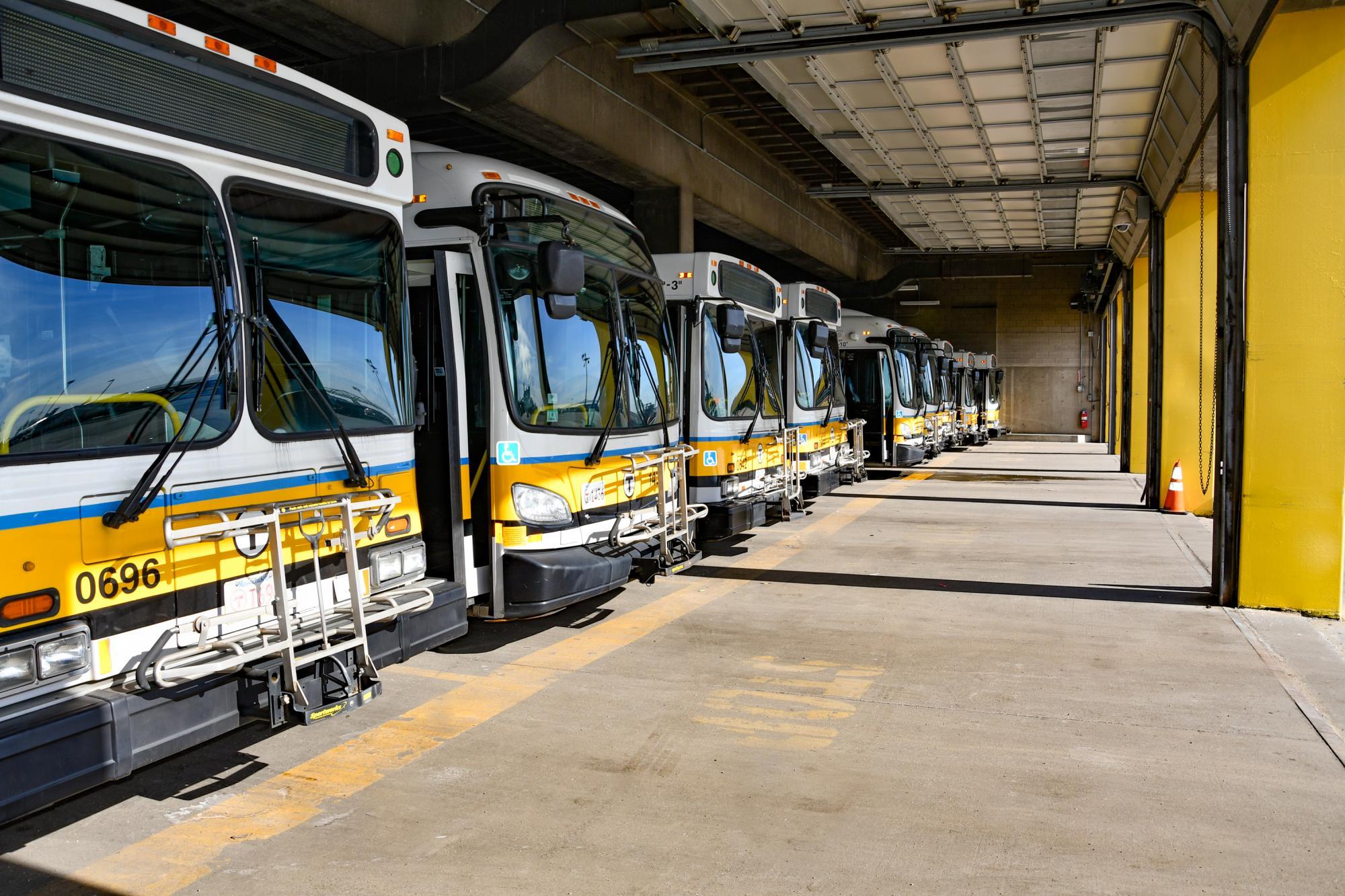 Continuous Change
Continuous change focuses on improvements that can be made when opportunities present themselves. This includes municipal partnerships, pilot projects, and the continuing practice of making regular, quarterly updates to scheduled service to better align schedules with rider demand.
The Better Bus Project team worked with municipalities throughout 2018 to improve the reliability and speed of bus service with bus priority projects in Arlington, Boston, Cambridge, and Everett. As the project continues, we will continue to engage with municipal partners to improve service in other areas.
Analysis
During our analysis period, we reached out to the communities most impacted by gaps in service and schedules. This included discussions at regional public meetings and meetings with community groups and stakeholders, through feedback submitted to our online survey, and by speaking with riders at bus stops and stations.
What We Learned
Riders want more frequent, more reliable service. They want more routes that run more often throughout the day—not just during peak service hours. And we learned from planners and operators that there are too many routes, too many complex routes, and too few routes with frequent, all-day service.
We invite you to review the following documents to learn more about our findings:
Proposed Near-term Changes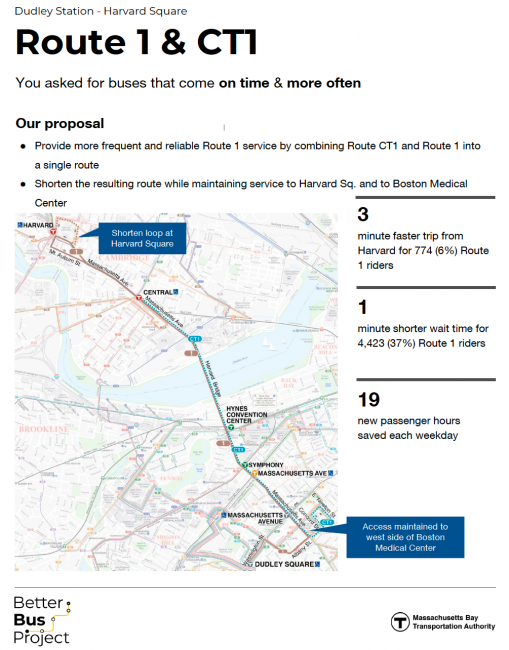 Before we can make substantial service changes, we have to make a few simple changes that will enable better service per dollar invested when it becomes time to to add more buses, drivers, and garages.
First, we need to:
Consolidate duplicate routes
Improve the space available at bus stops
Eliminate obsolete variants of some bus routes
We have 47 proposals to update and modernize existing routes. These are good, long-overdue changes. Taken together, they're laying the foundation for a bus network with more frequent, reliable service that provides better connectivity in Greater Boston.
Share Your Feedback With Us
The online feedback period closed on March 13, 2019. Thank you for all of your input.
We'll take your feedback to the Fiscal and Management Control Board to share with them—whether our proposals were not bold enough or if they went too far or if we missed something entirely. They will then decide if we move forward on a package of revised proposals. If approved, you'll start to see these changes as early as fall 2019.
Multi-year Investment Strategy
During peak morning and afternoon service, the MBTA bus system runs at full capacity. There are no extra drivers, buses, or space to store extra buses—so we can't add service somewhere without cutting it somewhere else.
This spring, we will engage the Fiscal and Management Control Board in a conversation about additional resources to improve the system. We heard from riders that they want additional resources spent on increasing frequency and reliability, and we will work with our board to understand how we could best spend any potential new resources.
Bus Network Redesign
We also started looking at redesigning the entire bus network. This Bus Network Redesign will analyze changes to the bus network that will better serve existing riders, and attract new riders, too.
Project Timeline
Time Period
Component
Activities
Time Period
Ongoing
Component
Continuous Change
Activities

Ongoing quarterly changes
Pilot projects
Municipal partnerships

Time Period
2018
Component
Analysis
Activities
Time Period
Winter 2018 – 2019
Component
Proposed Near-term Changes
Activities

Public engagement
Feedback on service proposals

Time Period
Early to Mid-2019
Component
Multi-year Investment Strategy
Activities

Request additional resources from the MBTA's Fiscal and Management Control Board

Time Period
2019 and Beyond
Component
Bus Network Redesign
Activities

Analyze bus network
Produce recommendations to better serve riders
Get Involved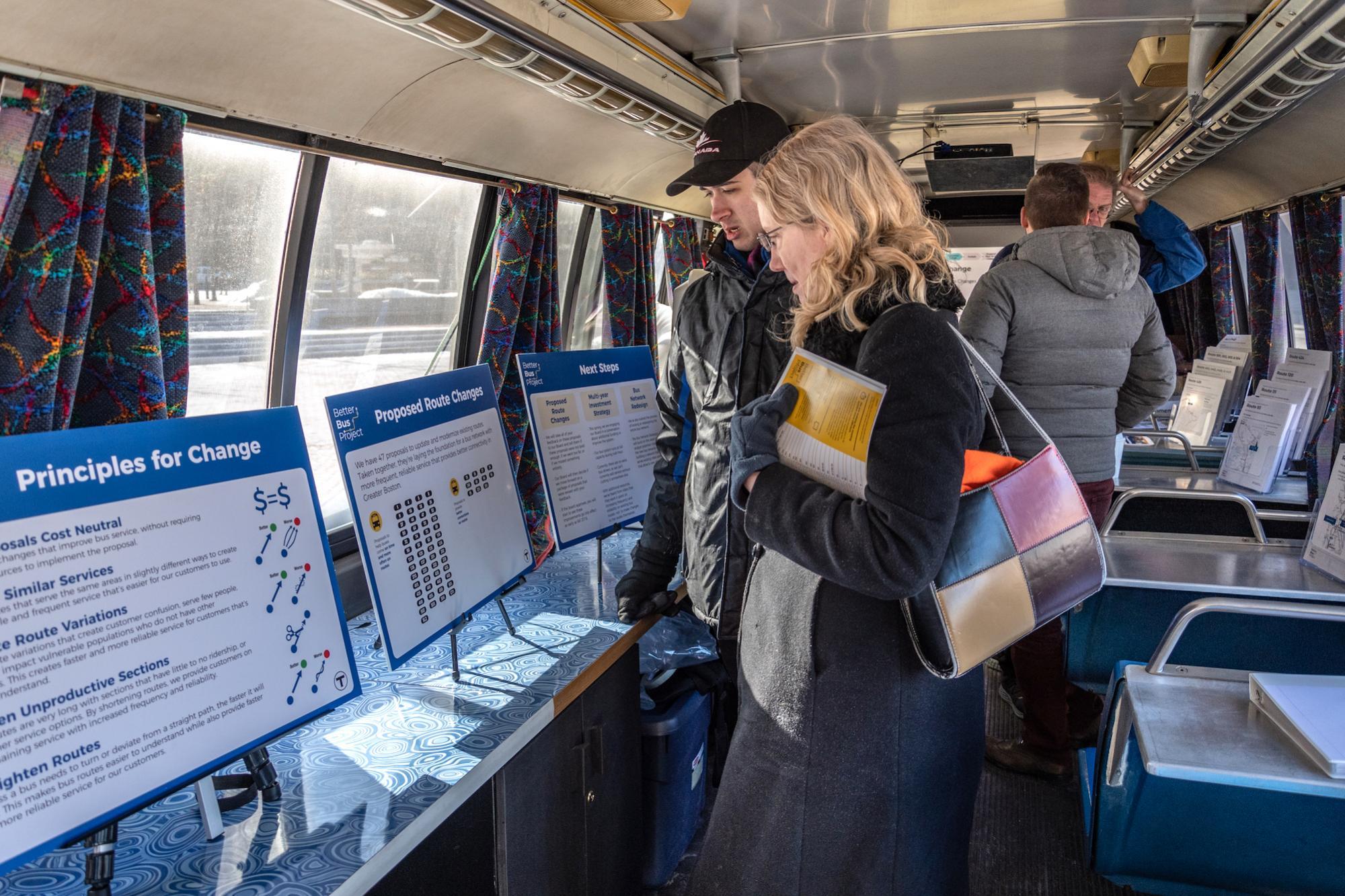 Share Feedback
We hosted a series of open houses and community meetings during the winter of 2019.
The online feedback period closed on March 13, 2019. Thank you for all of your input.
Stay Informed
Receive the latest project information and find out about public events.
Download Public Meeting Documents

Past Meetings
February 26, 2018 at 1:00pm - 3:45pm

May 2, 2018 at 5:30pm - 7:30pm

May 2, 2018 at 7:00pm - 9:00pm

May 4, 2018 at 7:30am - 9:30am

May 8, 2018 at 6:30pm

May 9, 2018 at 6:30am - 8:30am

May 16, 2018 at 5:00pm - 7:00pm

May 17, 2018 at 5:00pm - 7:00pm

May 21, 2018 at 2:30pm - 4:30pm

May 21, 2018 at 5:15pm - 7:15pm

May 22, 2018 at 6:00am - 8:00am

May 22, 2018 at 3:15pm - 5:15pm

May 23, 2018 at 5:00pm - 7:30pm

May 25, 2018 at 3:00pm - 5:00pm

May 29, 2018 at 4:45pm - 6:45pm

May 30, 2018 at 6:00pm - 8:00pm

May 31, 2018 at 4:30pm - 6:30pm

May 31, 2018 at 6:00pm - 8:00pm

June 1, 2018 at 12:45pm - 2:45pm

June 1, 2018 at 4:00pm - 6:00pm

June 4, 2018 at 6:30pm - 8:30pm

June 5, 2018 at 2:30pm - 4:30pm

June 5, 2018 at 5:00pm - 7:00pm

June 6, 2018 at 6:00pm - 8:00pm

June 7, 2018 at 6:00pm - 8:00pm

June 21, 2018 at 3:30pm - 5:30pm

June 25, 2018 at 12:30pm

June 25, 2018 at 5:00pm - 7:00pm

June 27, 2018 at 3:00pm - 5:00pm

June 28, 2018 at 2:30pm - 4:30pm

July 9, 2018 at 4:30pm - 6:30pm

July 10, 2018 at 7:00am - 9:00am

July 10, 2018 at 3:45pm - 5:45pm

July 11, 2018 at 4:30pm - 6:30pm

July 23, 2018 at 3:30pm - 5:30pm

August 22, 2018 at 6:00pm - 8:30pm

January 30, 2019 at 2:00pm - 4:00pm

January 31, 2019 at 12:00pm - 2:00pm

February 4, 2019 at 2:00pm - 4:00pm

February 5, 2019 at 4:00pm - 6:00pm

February 6, 2019 at 1:00pm - 3:00pm

February 11, 2019 at 4:30pm - 6:30pm

February 13, 2019 at 4:30pm - 6:30pm

February 19, 2019 at 8:00am - 10:00am

February 19, 2019 at 4:00pm - 6:00pm

February 25, 2019 at 3:30pm - 5:30pm

February 27, 2019 at 3:00pm - 5:00pm

March 4, 2019 at 4:00pm - 6:00pm

March 5, 2019 at 4:30pm - 6:30pm
Contact Information
For all queries and comments related to Better Bus Project, please contact: