How the Wollaston Station Closure Affects Your Trip
Updated on June 19, 2019
Wollaston Station is closed for renovation for 20 months between January 8, 2018 and summer 2019. Bus shuttles are replacing some train service.
Learn more about the improvements at Wollaston Station
What are the bus shuttle schedules?
The Wollaston Shuttle runs every day.
Where are the shuttles right now?
Where are the shuttle stops around Wollaston?
There are 4 shuttle stops around Wollaston Station.
The Wollaston Branch Library stop serves both inbound and outbound directions, so for many customers, it's the fastest way to reach the Red Line.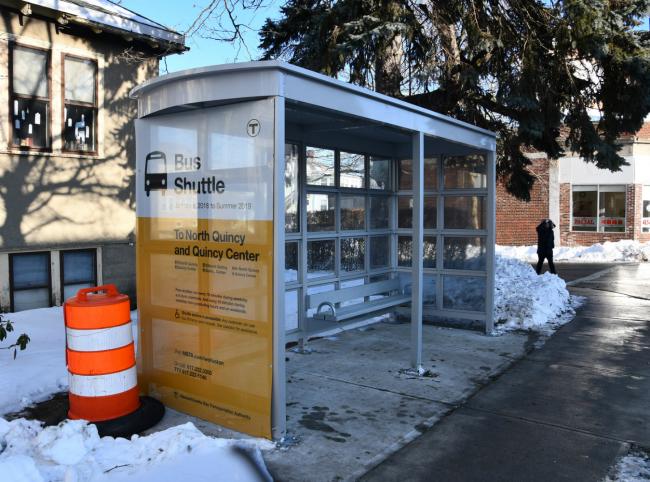 Shuttle stops inbound to North Quincy:
Wollaston Branch Library
Wollaston Station
Shuttle stops outbound to Quincy Center:
Wollaston Branch Library
Hancock St at Woodbine St
Newport Ave at Beale St
Download an informational flyer:
---
How will bus shuttles replace Red Line service?
Wollaston Shuttle

Please note: Red Line trains bypass Wollaston Station but continue to make stops at all stations on the Braintree branch.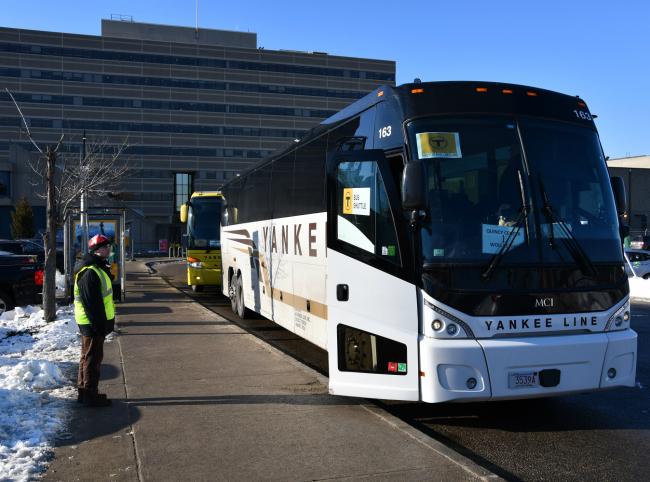 Bus shuttles service North Quincy, Wollaston, and Quincy Center stations.
Shuttles run:
Every 10 minutes during weekday rush-hour service
Every 15 minutes during weekday non-rush-hour service and on weekends
All shuttles are free and accessible to people with disabilities.
View live locations of shuttles
---
Where can I find parking?
Cars
423 parking spaces will be available at Wollaston Station during the closure.
Bikes
Additional bike parking will be available at Quincy Center Station and the West Squantum St entrance of North Quincy Station as space permits.
---
Are there alternate transportation options?
Commuter Rail

For the cost of a subway fare, you can take the Commuter Rail between Quincy Center Station and South Station. Subway and Zone 1A monthly passes are accepted. Just show your CharlieCard or CharlieTicket to the conductor.

Please note: If you are taking the Commuter Rail from Quincy Center outbound to Greenbush, Quincy Center is Zone 1. This ensures you get the lowest interzone fare.
Local Bus
The 210, 211, and 212 run different routes between Quincy Center and North Quincy stations.
The 217 runs between Quincy Center, North Quincy, and Ashmont stations.
Ferry
The Winthrop Ferry makes stops in Boston, Quincy, and Winthrop during the summer. 
Learn more about the Winthrop Ferry
---
What's happening at Wollaston Station?
On January 8, 2018, Wollaston Station on the Red Line closed to undergo improvements to make it a fully accessible, modern, and code-compliant station.