Reminder: Medford Street Bridge on Schedule to Close on Friday, May 17
Posted on May 14, 2019
The MBTA is reminding the public that the Green Line Extension (GLX) project will close the Medford Street Bridge near Gilman Square in Somerville on the evening of Friday, May 17, 2019. The bridge will remain closed through the spring of 2020.
The closure of the Medford Street Bridge will allow an accelerated pace of work for 2 major construction projects underway adjacent to the bridge:
The City of Somerville High School project will utilize areas of the Medford Street roadway for short-term construction staging operations through June 2019.
The GLX project will simultaneously begin needed modifications to the bridge, creating a longer span with structural improvements to accommodate the new Green Line tracks that will be installed beneath the roadway.
Traffic Detour
For the duration of this closure, all traffic will be detoured around the work zone via Pearl Street and McGrath Highway.
Detour maps and directions are available at www.mass.gov/GLX, in the Bridge Closures section.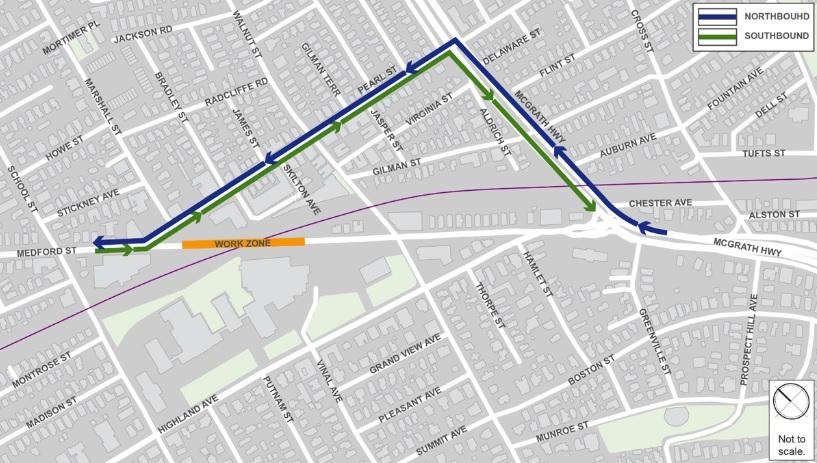 Recent schedules had projected the Medford Street Bridge would close in July 2019, but this new timeline was established after careful coordination between the Green Line Extension project and the Somerville High School Building project, which are progressing in close physical proximity to one another. Advancing the Medford Street Bridge closure by 6 weeks will provide critical logistical benefits for both projects.
Stay Informed
To stay informed about construction, sign up to receive a weekly email outlining upcoming construction citywide at www.somervillema.gov/construction.
Residents are also encouraged to enroll in the City's alert system at www.somervillema.gov/alerts to ensure they're notified prior to major detours or disruptive construction activity in their neighborhood.
Anyone seeking assistance for an urgent Green Line construction-related matter should call the 24/7 GLX hotline at 1-855-GLX-INFO (459-4636) or email info@glxinfo.com.
More Information
Media Contact Information
For all queries and comments, please contact:
MassDOT Press Office