Green Line Intersection Upgrades
Updated on May 10, 2019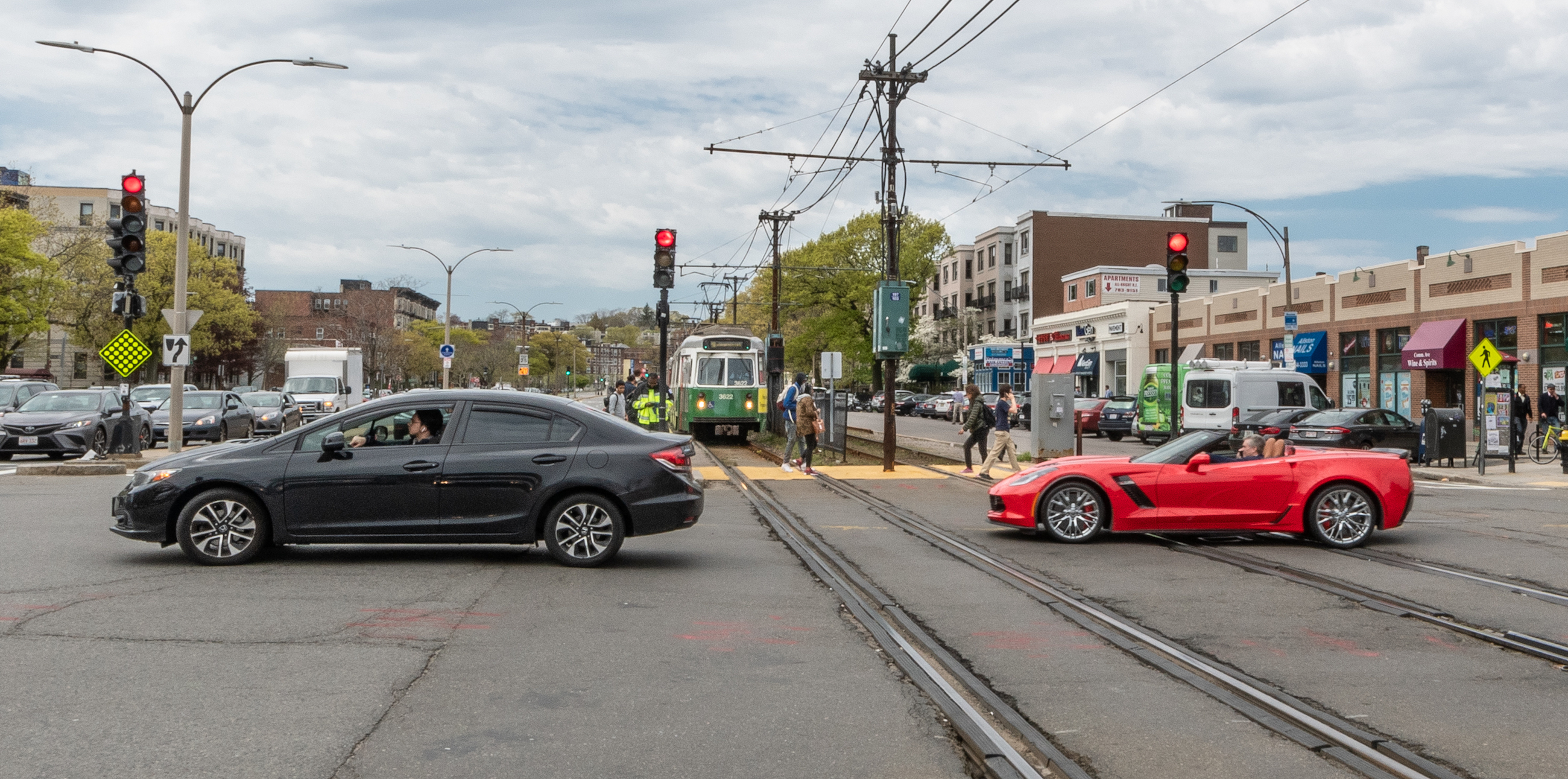 About the Project
Between 2019 and 2020, we will replace sections of track where the rail crosses the road and pedestrians, bicyclists, and drivers pass over the tracks.
Uneven pavement will be replaced with a new, smooth layer. Accessible ramps will be installed in several sidewalk locations. 
Why We're Doing This Work
This project will bring Green Line intersection tracks into a State of Good Repair.
Many existing crossings were last replaced in 1999-2000 and have reached the end of their useful life. The new crossings will last approximately 15-20 years.
Pedestrians, bicyclists, and drivers will be safer and more comfortable when they cross the tracks.
The new crossings will also improve operations and reliability—the new tracks will allow us to lift speed restrictions on particularly outdated sections of the Green Line.
What You Can Expect
We will demolish and reconstruct rails, install new rubber or asphalt road crossings, and pour new pavement at each of the crossings.
To do this work, we need safe access to the tracks and subsurface at each location. We plan to complete construction over 17 weekends between June 2019 and May 2020, in coordination with other Green Line projects.
A summer shuttle schedule will be announced soon.
Shuttles will replace train service on some weekends between summer 2019 and summer 2020. Shuttle locations will change based on which grade crossings are being reconstructed.
Each weekend, we will replace 1 to 3 crossings.
There will be minor weekend detours for pedestrians, bicyclists, and drivers. There may be lane closures, and some parking spaces may be temporarily unavailable for the weekend.
These restrictions are required for storing materials and accessing the tracks and will likely apply on the median side of the street.
Weekend work will start at 1 AM on Saturdays and continue through 3 AM on Mondays.
Some of this work will be noisy, including removing existing pavement, cutting the rails with a saw or torch, and tamping the track to the proper elevation.
We are using a variety of methods to minimize noise disruptions for neighbors, including:
Using self-adjusting backup alarms, silencers, or mufflers on equipment
Limiting truck and equipment idling
Lining dumping buns, hoppers, and trucks with sound-deadening material
Using noise blankets and shielding where possible
Noise levels are monitored monthly, and we respond to all noise complaints. If you would like to report a noise issue, a hotline will be set up soon. You can also email the project team at GLintersections@MBTA.com with any questions.
Photo Gallery
Contact Us
For all queries and comments related to Green Line Intersection Upgrades, please contact us at GLintersections@MBTA.com.
A hotline will be set up soon for noise issue complaints.
For More Information
Get project news, updates, and information delivered to your inbox.
Recent Updates
Diversions