AFC 2.0 Policy Changes and Public Input
Updated on October 25, 2018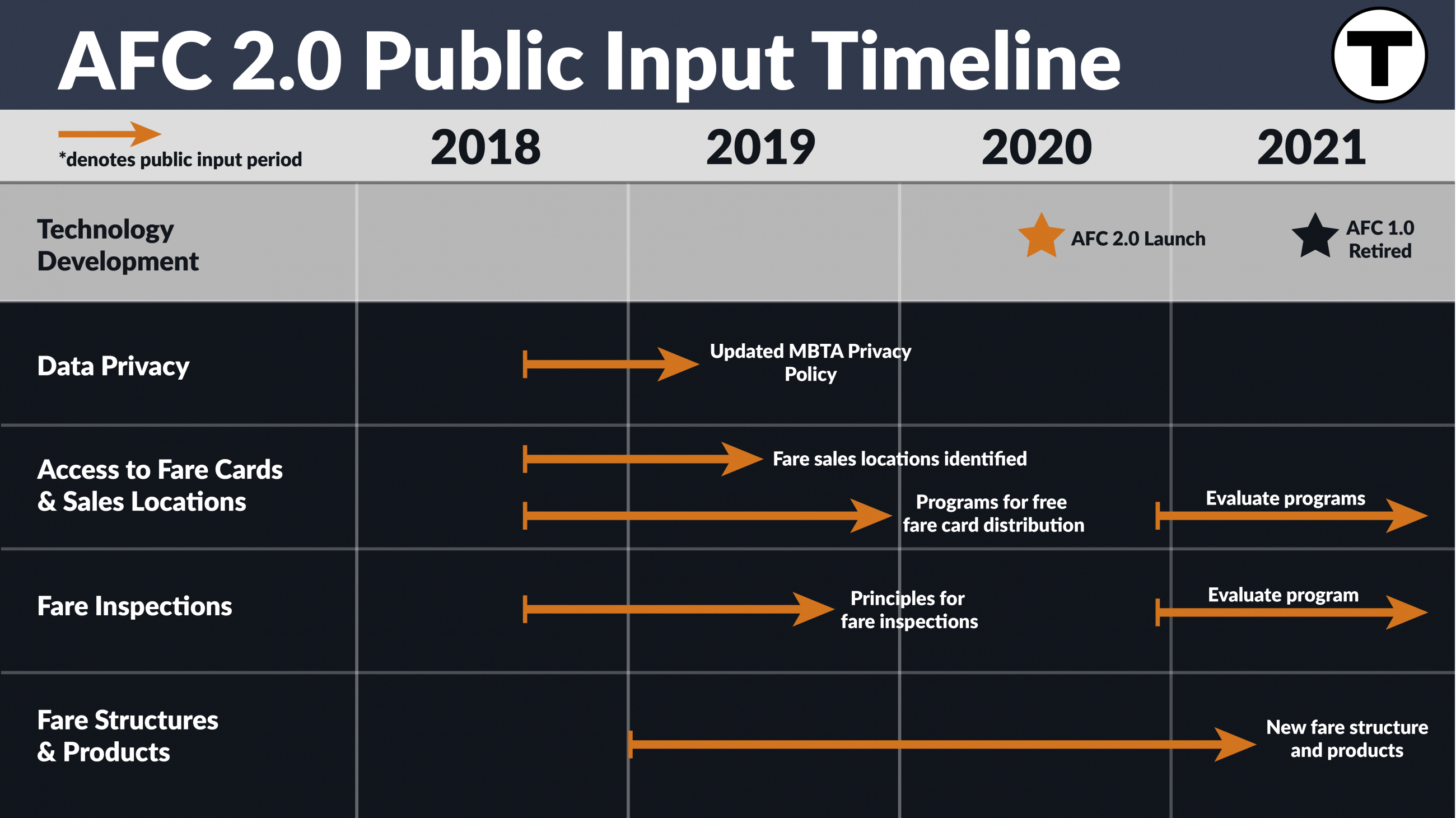 The AFC 2.0 system will enable the MBTA to make changes to fare policies that many of our customers have advocated for. Additionally, in order to fully achieve the benefits of AFC 2.0, the MBTA has to make significant policy changes to support the technology.
We will conduct outreach on these potential policy changes throughout the project's design and development, and after its initial deployment.
---
Get Involved
Provide Input
Tell us where fare vending machines and retail sales locations should be.
Stay Informed
Get the latest project information and find out about public events.
Learn More
Learn about the data we're using to make decisions.
Read our blog post about fare collection and cash use
Download data on farebox boardings (October 2017)
---
Focus Areas
The MBTA will primarily conduct public outreach on the following policy focus areas:
Data Privacy
Public input period: Late 2018 – early 2019
AFC 2.0 will enable an increased amount of passenger and travel data. This data can be used by the MBTA to improve service planning and help with future fare policy decisions. This data may also be used in an aggregate form to support projects conducted by researchers and universities. However, we are committed to protecting customer data and are seeking public input on updates to the MBTA Privacy Policy.
Access to Fare Cards and Sales Locations
Public input period: Late 2018 – end of 2019 (fare cards), late 2018 – mid 2019 (sales locations)
AFC 2.0's goal is to make paying your fare easier, more flexible, and more efficient. One aspect of this is the removal of cash payments onboard all buses, Green Line trains, and Mattapan trolleys, significantly improving the speed of these services.
However, customers who rely on cash still need the ability to pay. As part of the project, the MBTA is increasing the number of fare vending machines and retail sales locations across the area, making it easier to buy and reload fare cards with cash or credit. We will seek public input on the locations of the fare vending machines and develop a process for making adjustments after the system is running.
In addition, the new fare cards will carry a cost. This paid card will enable the MBTA to explore new fare mechanisms like "one more trip," which allows riders to temporarily have a negative balance. We will seek input from the public on developing programs to distribute free fare cards to individuals who cannot afford them.
Fare Inspections
Public input period: Late 2018 – late 2019
Removing cash payments onboard the Green Line and buses will enable the MBTA to implement all-door boarding, increasing the speed of those services. However, removing the operator from the fare collection process requires an alternative form of fare verification. We will engage the public for input into the development of an equitable, fair, and efficient fare inspection program.
Fare Structures and Products
Public input period: 2019 – 2021
The technology advancements in AFC 2.0 will allow for a broad range of potential fare structure changes and new fare products. These could include distance-based pricing, time of day pricing, weekly or daily fare caps, and changes to transfer rules. We will be gathering public input on ideas for new fare products and the potential impacts of changes.
---
Contact
For questions and comments related to Automated Fare Collection 2.0 (AFC 2.0), please contact:
MBTA Customer Technology
charlie@mbta.com
857-308-AFC2