Building A Better T: Red Line Service Suspended from Broadway to Kendall/MIT during 4 Weekends beginning Tonight; First New Red Line Train to Be Tested on the Red Line Mainline Tonight
Posted on November 15, 2019
Bus shuttles will be provided between Broadway and Kendall/MIT for 4 weekends beginning at 8:45 PM on Fridays and lasting through the end of service on Sundays.
Work being done as part of the 2019 Capital Acceleration Plan.
Learn more at mbta.com/RLwork
---
Today the MBTA reminded customers that weekend Red Line service between Broadway and Kendall/MIT Stations will be suspended starting this weekend, beginning at 8:45 PM on Fridays through Sundays for 4 weekends as part of the MBTA's 2019 Capital Acceleration Plan. (Note: Regular Red Line train service will operate the weekend of Thanksgiving, November 29 – December 1.)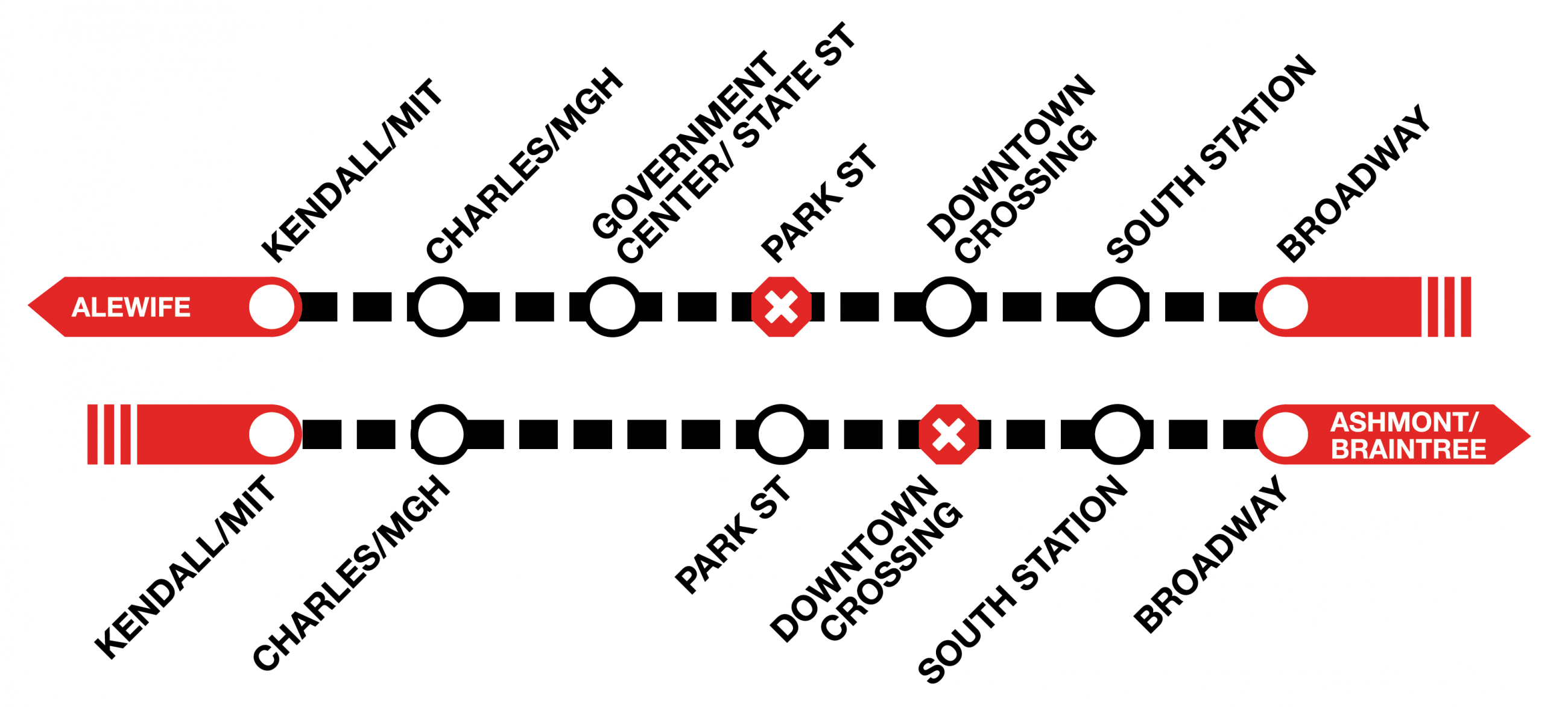 Accelerated work taking place on the Red Line during these 4 weekends includes station improvements and track replacements at Park Street and Downtown Crossing Stations. The MBTA will replace and add new signage, clean, paint, and repair stairs/tile within the stations. The T will also replace approximately 1,800 feet of 30-year-old track at both stations, which is approximately 450 feet of track in both the northbound and southbound directions at Park Street and Downtown Crossing. These 4 weekend shutdowns allow the MBTA to complete work on the Red Line level at Park Street 4 months earlier than planned and at Downtown Crossing nearly a year earlier than planned.
"These weekend diversions of the Red Line continue our progress toward building a better T," said MBTA General Manager Poftak. "While these weekend diversions are inconvenient, they allow us to accomplish necessary upgrades resulting in a safer, more reliable system sooner."
During these 4 weekends, bus shuttles will be provided between Kendall/MIT and Broadway. Due to one-way traffic patterns, shuttle service toward Alewife will not stop at Park Street and shuttle service toward Ashmont/Braintree will not stop at Downtown Crossing. Full shuttle bus and alternate travel information can be found at mbta.com/RLwork. 
 
The 4 weekends in which Red Line service is suspended between Broadway and Kendall/MIT Stations are:
8:45 PM on November 15 through November 17
8:45 PM on November 22 through November 24
8:45 PM on December 6 through December 8
8:45 PM on December 13 through December 15
Shuttles are accessible to people with disabilities. Some bus shuttles may be provided by third-party contractors and will look different than MBTA buses. Some may provide accessibility via a lift in the back rather than a ramp in front.
More Details on The Work
The broad limits between Broadway and Kendall/MIT are necessary as these areas are "portal" access points for work crews to load in construction equipment and materials into the underground portions of the Red Line. The broad closure limits also give the MBTA a valuable work window to perform work that would otherwise require additional service shutdowns, including track and power maintenance between stations, including third rail insulators and connections; tunnel debris clean-up, which will reduce the risk of nuisance smoke and fire; detailed inspections and surveys of tunnel infrastructure for future repairs and long-term investments; and station repairs and maintenance to platforms, escalators, elevators, stairs, and fare equipment.
Building A Better T: First New Red Line Train to Be Tested on the Red Line Mainline Tonight
The first new 6-car Red Line train will make its first appearance on the Red Line mainline after the end of regular service tonight. The test train will operate between North Quincy and JFK/UMass Stations during the early morning hours (between approximately 1:45 AM and 4 AM).
More Information
Media Contact Information
For all queries and comments, please contact:
MassDOT Press Office