GLX On Schedule: Next Steps: 3 Somerville Bridges Scheduled to Be Closed, Reconstructed, Widened
Posted on February 21, 2019
Broadway Bridge will be closed starting March 22, 2019, followed by the Washington Street Bridge in April 2019 and the Medford Street Bridge in July 2019
---
The MBTA has announced that the Green Line Extension (GLX) Project is on schedule with the next major project steps including the temporary closure of 3 bridges in Somerville in order to advance GLX construction, which includes infrastructure improvements as well as widening efforts to accommodate the addition of new Green Line light rail tracks and rights of way.
Bridge
Dates closed
Bridge
Broadway Bridge in Ball Square
Dates closed
March 22, 2019 – March 2020
Bridge
Washington Street Bridge (Underpass) in East Somerville
Dates closed
April 2019 – Fall 2019
Spring 2020 – Fall 2020
Bridge
Medford Street Bridge in Gilman Square
Dates closed
July 2019 – Spring 2020
"This is a major step forward to bring Green Line service to the communities of Cambridge, Somerville, and Medford. While we acknowledge this work will cause disruptions at times, we have an obligation to our customers, the communities we serve, and taxpayers to deliver this important investment, and to do so on time and on budget," said MBTA General Manager Steve Poftak. "This is an exciting milestone for GLX. I want to thank the residents and businesses along the project corridor for their patience while construction takes place."
Traffic detours will be in place for the duration of each closure with motorists, pedestrians, and bicyclists encouraged to plan accordingly. Commuters traveling through Medford, Somerville, Cambridge, and Boston should anticipate additional travel times and are advised to seek an alternate route if possible for the duration of each bridge closure. Due to the nature of construction, bridge closure schedules are subject to change.
Broadway Bridge
Beginning on March 22, 2019, north/west traffic will be detoured around Broadway Bridge via a left turn on Cedar Street, a right turn on Highland Avenue, a right turn on College Avenue, and the fifth exit from the traffic circle on to Broadway. South/east traffic will be detoured around Broadway Bridge via the third exit from the traffic circle at Powder House Square on to Warner Street, continuing straight on to Harvard Street, a right turn on to Main Street, continuing on to Medford Street, and a left on to Broadway.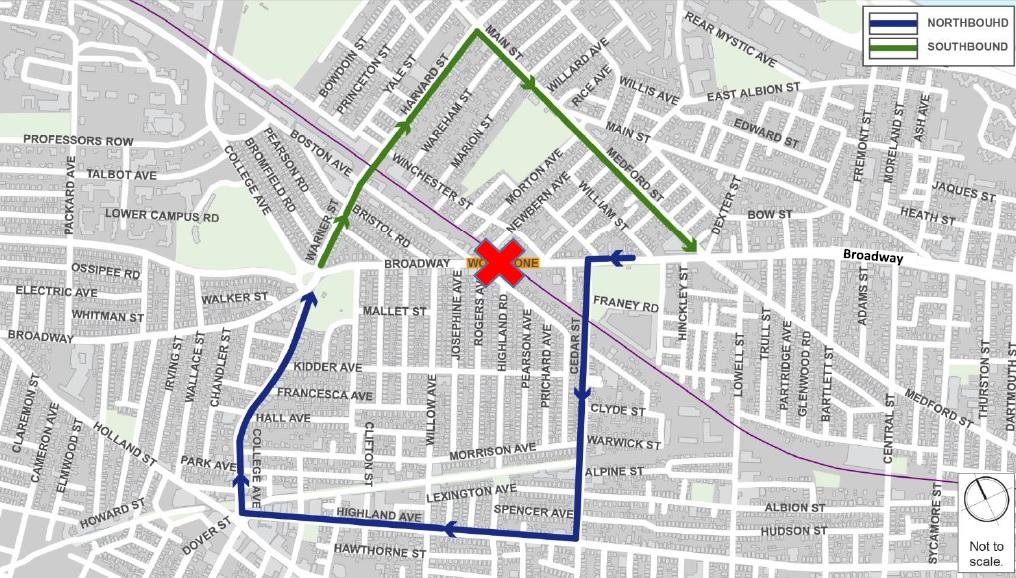 Further details for each of the 3 bridge closures, including directions and helpful area maps, can be found at www.greenlineextension.org.
The closures of the Broadway and the Medford Street Bridges are necessary in order to accommodate new Green Line light rail tracks. Currently, both bridges are only wide enough to accommodate the existing Commuter Rail service that operates beneath them. The Washington Street Bridge requires a complete reconstruction of abutments and structural span in order to accommodate the addition of the new light rail transit service and the Community Path.
During the closure period from March 22, 2019, through March 2020, the current Broadway Bridge structure, including its present foundation, will be completely demolished with a new, wider bridge reconstructed in its place. The new Broadway Bridge will be wide enough to require a center column pier-style foundation and will also include new east and west abutment foundations and walls as well as a lengthened roadway surface deck.
Washington Street Bridge
The Washington Street Bridge will also be completely reconstructed. With work being accomplished in phases, preliminary activities have already taken place in late 2018. More significant work will occur during the upcoming closures from April 2019 to fall 2019 and from spring 2020 to fall 2020. When complete, the new Washington Street Bridge will feature improved drainage, structural improvements, and will incorporate elements of the upcoming Community Path.
Medford Street Bridge
During the Medford Street Bridge closure period from July 2019 through spring 2020, the existing pier and abutment structures that support the bridge will be reconstructed and widened to accommodate the presence of both the Commuter Rail and new Green Line track areas.
GLX Construction
The GLX "Phase 1" construction contract is already complete. Work included the reconstruction of the Harvard Street Railroad Bridge in Medford and the Medford Street Railroad Bridge in Somerville as well as the demolition of the MBTA-owned facilities at 21 Water Street in Cambridge.
The MBTA appreciates the patience and understanding of community members and others affected by these bridge closures as the GLX Project Team continues to make progress in expanding the Green Line and building 7 brand new stations. The MBTA also thanks its city partners, municipal leaders, and stakeholder groups for their continued collaboration and support of GLX.
More Information
Media Contact Information
For all queries and comments, please contact:
MassDOT Press Office